Incredibuild 10

Faster Builds. Smarter Dev Cycles.

Break out of the linear development cycle, to become truly free.
Create, innovate, iterate more and build better products with smarter task distribution, better resource management and greater compute flexibility than ever before.

Smart Licensing
Web-based Coordinator
Build Cache

Development
Never Stops

Slash build and test time, right out of the box
without changing your code, tools, or processes
Over 2,000 leading brands
rely on Incredibuild to release better products to market - radically faster
Case studies
Radically accelerate development
from compilations to testing to release automation
With Incredibuild
Without Incredibuild
Everybody wins
Developers

Slash compilation wait times and eliminate context switching
Build even full rebuild whenever you want
No more timing your compilations to lunchtime
No more compromising on full rebuilds or feature branches
Your compile load is distributed to other machines, keeping yours free to continue working
Rapid error & efficiency detection with build visualization

Never wait for your builds to finish again!

Release managers

Move from nightly builds to daytime builds to build per commit
Keep your build times in check – always
Run full rebuilds, more configurations, and additional QA without slowing build time
Rapid feedback to developers
Quick who-broke-the-build resolution

Speed and quality are no longer a tradeoff!

Management

Shorter release cycles save development cost and increase quality
Real-time critical bug fixes release better products to market way faster
Maximum ROI of your assets – from team productivity to CPU power
Maintain competitiveness and agility. Embrace continuous delivery modernization

Release faster, or someone else will!
Try it FREE
The magic happens with our unique technology
that seamlessly turns every host into a supercomputer with the power of 100s—even 1,000s—of cores
Distributed Computing Processing
harvests idle CPU across your local hardware/network and the cloud
Dynamic Virtualization Technology
emulates your local environment on remote machines
Virtualized Distributed Processing™
Seamless integration
with any continuous integration tools, build systems, and compilers
See our partners
Incredibuild is bundled as the accelerator of choice within Visual Studio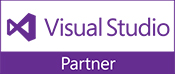 Same code
Same processes
Same tools
Super fast