As always, we were super thrilled to see you all at our Virtual Round Table event on May 6.
Just a recap for those of you who missed it: We sat down (virtually) with an amazing panel of experts to have an authentic conversation about cloud technology and game development.
Our impressive panel included the following experts: Marc Petit, from Epic Games (VP, General Manager, Unreal Engine), Kevin Ashman from AWS Game Tech (Sr. Partner Solutions Architect), Brad Hart from Perforce (CTO), Avida Michaud from Proletariat (Engineering Lead) and myself (Israel Rogoza, Sr. product manager – cloud).
It was so illuminating to share thoughts and ideas on this topic with industry experts that we felt we just have to put some of those notions in writing as well. We wish to highlight some insights that were brought up during our discussion.
Benefits and Challenges
To get the ball rolling, we asked our panel: What is the first thing that pops into your mind when you think about the benefits of moving to the cloud?
The benefits raised were many:
Accessibility and scalability
The cloud accelerates game dev work
Infinite compute capacity in a second, just when you need it
Empowerment of distributed teams
Improved disaster recovery
But where there are benefits, there are also hurdles. That's where we all unite as an industry or an ecosystem to try to work together towards making what seems like an amazing idea a reality.
This past year sure had its challenges, but just to set the stage for this discussion, it's worth mentioning the GDC 2021 State of the Game Industry report that just recently came out. This report had an encouraging stat to share: "66% of respondents said their productivity and creativity stayed the same or even increased to varying degrees, which goes against the narrative that working from home is inherently negative when it comes to getting work done."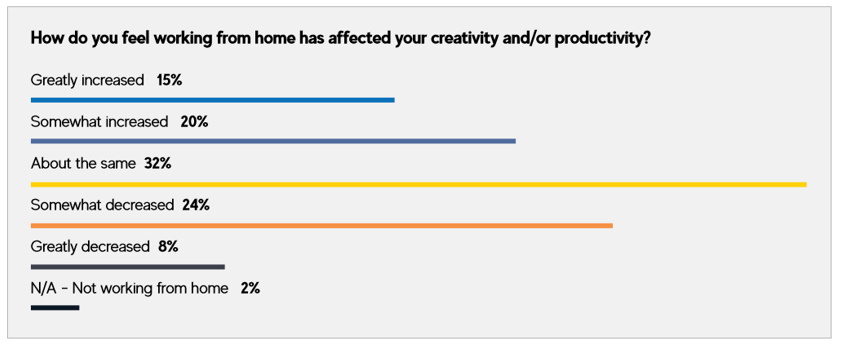 Image source: GDC 2021 State of the Game Industry report
And obviously, when discussing working from home under pandemic circumstances, the cloud is also brought up.
But back to challenges. One challenge mentioned in relation to cloud that a lot of us can identify with is the challenge of knowing how and what you want to use the cloud for. Kevin Ashman from AWS Game Tech addressed this challenge: "The cloud actually plays a role in the full life cycle of a game, from not just building, but also running that game, operating that game and growing that game success after it launches, and specifically with Incredibuild and Perforce, those products can change the paradigm on how studios develop."
Brad Hart from Perforce followed Kevin in discussing cloud challenges: "One of the challenges that I see with our customers is you [they] know the notion of going to the cloud and you [they] know the benefits […], but it's not just duplicating your existing topology and doing it in the cloud […]. You'll get a sticker shock if you duplicate your existing model and try to burst it out and have no control or access mechanisms to manage that, so really where we've seen people face that challenge is how to design the topology in the cloud that makes sense for the pipeline they're trying to build, where can they leverage the strengths and what is the right model? Is it a little bit of a hybrid model? And just kind of navigating those waters…"
And what about the cost? Isn't that a challenge? If you ask me, it is one of THE biggest challenges our customers face. As I said during the event, our customers struggle with learning the ropes of cloud cost, provisioning machines, navigating between different types of machines and their costs, using spot and so forth. They want to make the transition, but they are afraid of the cost.
Marc Petit, from Epic Games, added: "You need to ride the cost curve," referring to figuring out the cost challenge. He also addressed the desire to not put all your eggs in one cloud provider basket as a strategy.
It seems that Marc doesn't see the cost issue (which is actually going down) as the biggest challenge, but rather the biggest challenge is with learning and experimenting: "The big hurdle is the learning and people have to be willing to experiment […]. You have to dip your toe in the water and give it a go."
Overcoming the Hurdles
For me one of the highlights of the event was hearing Avida's personal journey to releasing Spellbreak amidst the pandemic (29:50) by accelerating development in the cloud. You are also welcomed to read the Proletariat – Incredibuild success story for additional info.
Want to learn how our panel of experts overcame these hurdles and challenges?
Want to catch up on some tips and best practices?
Watch the full virtual event here.