Incredibuild radically accelerates graphics
Turbocharge rendering, image processing, shader compilation, light-map baking, image conversion, texture compression, and more
Seamlessly integrates
with most popular compilers & build systems, and bundled into Visual Studio
Compilers
Build systems and IDEs
Bundled as part of the Visual Studio experience since 2015 as the Microsoft Visual Studio acceleration solution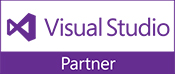 3 easy steps to turbocharge graphics
Install

the Incredibuild Coordinator (it manages the Incredibuild pool) and load your license.

Install Incredibuild

on each machine you want as part of the Incredibuild pool. The more machines you install, the more CPU power your graphics workloads can harvest!

Run

your graphic workloads through Incredibuild's command line.
Then, sit back and watch as Incredibuild's visualization shows you how fast your graphics workloads progress when they're distributed to hundreds of cores.
Everybody wins
End-users

Eliminating slow graphic workloads for a better graphic quality end product
Improving the trial-and-error process by effectively running frequent workloads
Accelerating rendering, image processing, shader compilation, light-map baking, image conversion, texture compression, and more

Better graphics, better products, better sales!

Designers

Ending the 'arms race' for ever-better hardware or high-maintenance render farms to support time-consuming graphics workloads
Faster product profitability with seamless scalability (including bursting to the cloud)
Running multiple graphic workloads over existing hardware
Launching time-consuming graphic tasks directly from your hosts to get all the computing power you need

No more compromise between speed, flexibility, and quality!

Management

Shorter release cycles save development cost & increase the quality
Real-time critical bug fixes release better products to market, way faster
Better graphics quality makes for a more attractive and sellable product
Maximum ROI of your assets – from team productivity to CPU power
Maintaining competitiveness and agility, and embracing continuous delivery modernization

Release faster, or someone else will!