Incredibuild radically accelerates simulations
Turbocharge encapsulated, highly-parallel, and compute-intensive processes
"Working with CAD/CAM, accuracy and precision is essential. By using Incredibuild, we can enable continuous integration and testing."

"Incredibuild ramped up the quality level of the analyses produced by our software, so we have more time to further optimize results."
Seamlessly integrates
with most popular compilers & build systems, and bundled into Visual Studio
Compilers
Build systems and IDEs
Bundled as part of the Visual Studio experience since 2015 as the Microsoft Visual Studio acceleration solution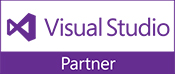 3 easy steps to turbocharge simulations
Install

the Incredibuild Coordinator (it manages the Incredibuild pool) and load your license.

Install Incredibuild

on each machine you want as part of the Incredibuild pool. The more machines you install, the more CPU power your simulations can harvest!

Run

your simulations through the Incredibuild command line.
Then, sit back and watch as Incredibuild's visualization shows you how fast your simulations progress when they're distributed to hundreds of cores.
Everybody wins
End-user

Turbocharges financial risk analysis, model training, EOD calculations, pricing, and more
Turbocharges manufacturing 3D simulations, transient analysis, CAD/CAM, and more
Turbocharges MedTech and scientific simulations too!
Trying more permutations to achieve better results, in far less time
Launching simulations and seamlessly transforming your host into a supercomputer with thousands of cores

Faster analysis, faster results!

Products and processes

Generating faster iterations for better-trained models and more efficient manufacturing processes
Running multiple simulations over existing hardware
Increasing ROI with seamless scalability (including bursting to the cloud)
Detecting bottlenecks, failures, utilization, and much more - via dashboards and visualization
More flexible simulations with built-in fault tolerance and supports for heterogeneous, cross-platform environments

No more compromise between speed, flexibility, and quality!

Management

Optimizing simulations speed has direct results on revenue and quality
Shorter simulations increase quality and provide faster results
Maximum ROI of your assets – from team productivity to CPU power
Maintaining competitiveness and agility, and embracing continuous delivery modernization

Release faster, or someone else will!